Optyczna technologia komunikacyjna oparta na smartfonie, do sterowania
i programowania oświetlenia podstawowego i oświetlenia awaryjnego.
Światło, które komunikuje się ze światłem - jest to zasada działania nowej opatentowanej technologii Beghelli. Opticom (OPTIcal COMmunication Technology) to optyczny system komunikacyjny, który umożliwia komunikację, odczytywanie, zmianę wydajności i funkcji każdej oprawy Beghelli wyposażonej w inteligentny zasilacz Smart Driver za pomocą lampy błyskowej i aparatu zwykłego smartfona.
Patent, który zrewolucjonizował świat oświetlenia
Technologia Opticom na nowo zrewolucjonizowała sposób kontroli oświetlenia. Po raz pierwszy w sektorze oświetlenia wykorzystano smartfony, aby umożliwić użytkownikom, instalatorom i osobom odpowiedzialnym za bezpieczeństwo na obiektach, łatwe sterowanie urządzeniami.
Dedykowana aplikacja Opticom Technology
Ta zaawansowana technologia upraszcza i optymalizuje pracę instalatorów, którzy mogą zaprogramować urządzenia oświetleniowe bez jakiegokolwiek dodatkowegowyposażenia, korzystając z dedykowanej aplikacji, która jest dostępna bezpłatnie dla systemów iOS i Android.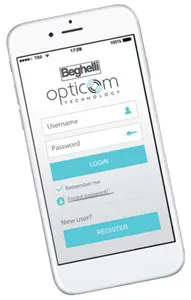 Oprawy awaryjne AT OptiCom
Czujnik fotooptyczny, zainstalowany standardowo we wszystkich oprawach awaryjnych z serii AT OptiCom, jest przeznaczony do odbierania impulsów świetlnych emitowanych przez lampę błyskową smartfona i przekształcania ich w komendy dla samej oprawy oświetlenia awaryjnego.
OptiCom to dwukierunkowa technologia komunikacji optycznej, która służy do konfiguracji opraw, rejestracji zdarzeń takich jak błędy, anomalie,  wyniki testów czy czynności konserwacyjne. Wyniki działań są rejestrowane, w każdej chwili gotowe do wyświetlenia lub wydrukowania. Każda oprawa odpowiada na sygnał ze smartfona, błyskając diodami LED oraz wysyłając informacje dotyczące bieżących ustawień czy wykrytych usterek. 
Aplikacja OPTICOM Technology umożliwia zmianę podstawowych ustawień opraw awaryjnych OptiCom takich jak: czas autonomii
(1h,1.5h, 2h, 3h, 8h), strumień świetlny, tryb pracy (SE-SA-PS) czy też czasookresy testów. .
Beghelli Cloud
Wszystkie dane opraw z serii OptiCom Technology są przesyłane do chmury Beghelli Cloud, w której można sprawdzić stan tych urządzeń. Rozbudowanie opraw OptiCom o interfejsy LG i LGFM daje nam możliwość stworzenia systemu centralizowanego monitoringu, który również komunikuje się z Chmurą Beghelli. Umożliwia to zarządzanie systemem bezpośrednio poprzez centralkę jak i za pomocą sieci. Dzięki technologii OptiCom systemy takie jak Logica (LG, LGFM) i Sicuro (Sicuro24 i SLG) mogą być również zintegrowane z chmurą Beghelli Cloud.
Oświetlenie Opticom Technology
Wszystkie oprawy wyposażone w zasilacze SmartDriver oraz inteligentny czujnik światła, stają się automatycznie elementami systemu OptiCom. Uzyskujemy wtedy możliwość zaprogramowania czujnika światła w taki sposób, aby zarządzać funkcjami Autodimm. Można to osiągnąć zarówno w naturalnym trybie kompensacji światła (Natural Light), jak i automatycznej redukcji mocy urządzenia oraz w trybie światła dynamicznego, który wykrywa zmiany światła spowodowane ruchem osób, a następnie zwiększa strumień świetlny opraw. Technologia Opticom: wielofunkcyjny system, który sprawia że technologia Beghelli SD jest jeszcze bardziej inteligentna oraz jeszcze bardziej oszczędna, nawet ponad 80% (o 30% więcej niż tradycyjne systemy LED), dzięki wsparciu inteligentnego fotosensora Natural Light
i Dynamic Light.