Dom-e Strip LED RGBW CCT Dynamic 2700K 6500K
Complete kit of smart LED strips that you control from your smartphone

Self-adhesive RGBW flexible SMART LED strips, controllable with supplied remote control or from smartphone via dedicated App. In 5-meter rolls already pre-wired, they are available in IP44 splash-resistant version. Ready-to-use kit complete with drivers and accessories for quick installation.

RGBW strips equipped with an additional chip with white light emission for standard lighting.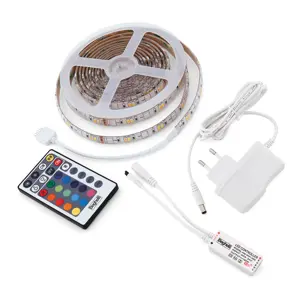 Complete ready-to-use equipment
Package contents:
5-meter stripLED coil
WiFi and infrared receiver
multifunctional remote control
200-240V driver with 12V-2A output
Tutto l'occorrente per l'installazione: telecomando, controller, alimentatore.
Aluminum profiles with diffuser for recessed / suspension / ceiling installations
The CCT technology with which they are equipped allows the user a wide choice of color shades, from warm to cool light, easily adjustable with the included remote control.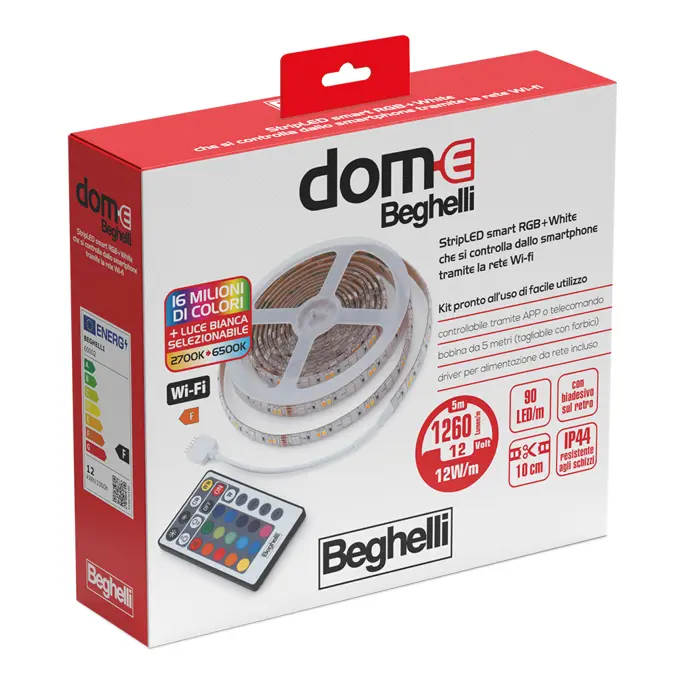 Dom-e Strip LED RGBW / CCT dynamic2700K -> 6500K

IP44

Pre-wired 15 cm cable on one side.
Included: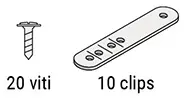 With the dom-e App on your smartphone, turn on the LED strips and create the atmosphere in your home the way you want.
It is easily installed and set up in minutes!

Download the App from the store. Connect the LED strip to the driver. Connect and program.
Works with: Apple iPhone iOS 8.0 or later / Android 4.2 or later.
Download the dedicated dom-e App available for free in stores.

Voice control: the LED strip can be controlled by voice assistants.