A history of innovation
and reliability that illuminates the future.
We have always enlightened and simplified everyday life.
Ideas have always guided the evolution of the human species.

Ideas, and therefore innovation, are at the basis of Beghelli's work, which since 1982 has been designing solutions that allow people to live their working and living environment in serenity and health, having respect for the environment as a natural prerequisite.

Thanks to its attention to real-life needs, Beghelli is able to anticipate market trends and demands, guided in this by the knowledge that everything stems from intensive research and development.

The well-being of people and the environment, energy saving, and ease of use are the focus of Beghelli's attention and the basis of all its ideas.
Ideas full of life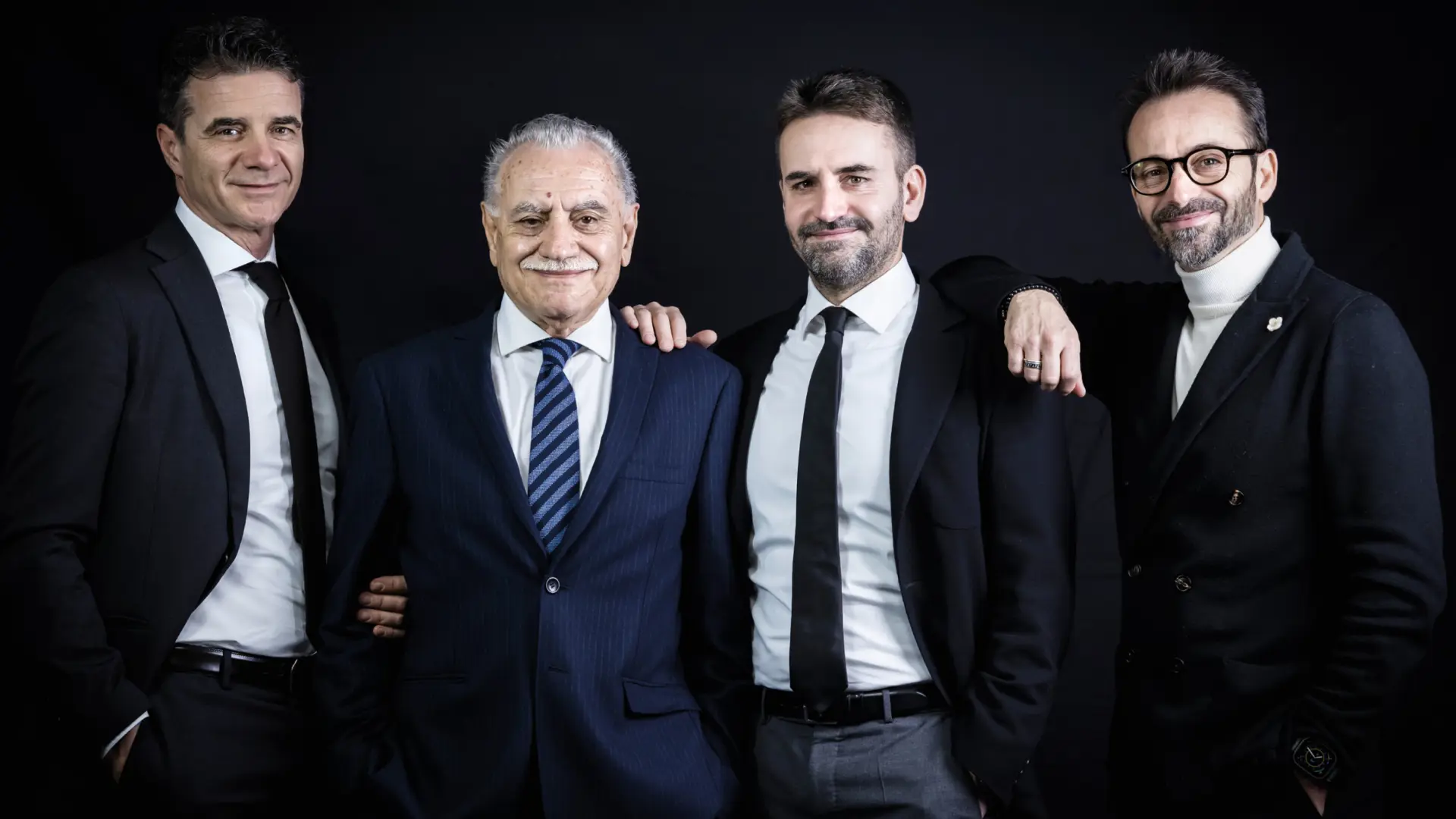 It was 1982 when Gian Pietro Beghelli founded Beghelli, a group that designs, manufactures and distributes professional technical lighting equipment.

In just a few years, it became an Italian leader in the emergency lighting sector and also made electronic systems for home automation and industrial and home security, also combining products and services.
Beghelli's leadership is based on its ability to interpret the needs of the market: over the years, investments in the quality of its offerings and its brand-known to 75% of the Italian population (source: Doxa)-have contributed to the Group's success in its traditional business sectors and are a guarantee of success in the launch of new products, as in the case of SanificaAria and SalvalavitaPhone telephones for the elderly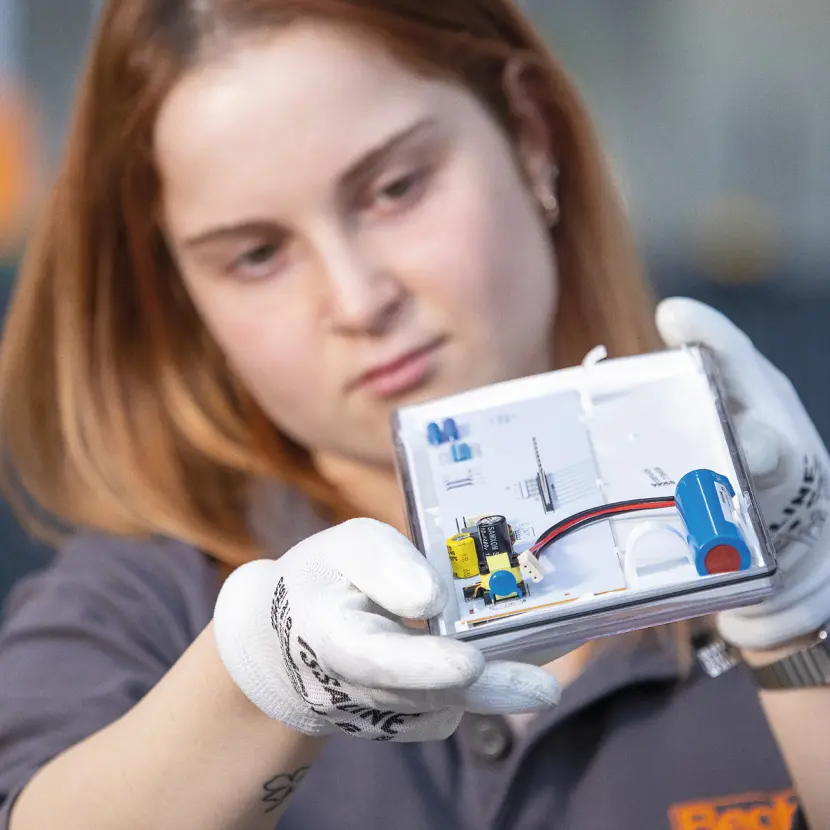 Reliability and innovative ideas.
Research activity is a key focus for the Beghelli brand, which reserves substantial investment to develop technologically innovative products, both in terms of function and design. All this takes place within the Company's laboratories and experimental centers that carry out the design, engineering, testing and certification of products.
Production activities are carried out mainly by Group companies, allowing control of the production cycle and, consequently, the ability to reduce the time needed to launch new products on the market, once projects are approved.

Electronic circuits and high value-added products are produced in Italy by a production unit created following the vertical integration strategy Beghelli is implementing.
Beghelli returns to focus on Europe, both from a market and production perspective. A path started a few years ago but which takes on particular relevance in light of the current global context of difficulties in the supply chain, particularly from the Far East, while also allowing for shorter procurement times and improved customer service.
Beghelli's mission is to develop innovative solutions for people's well-being and safety, implement technologies that ensure energy saving
and safety for consumers in both domestic and industrial settings.
Useful products that help improve people's quality of life but are easy to use.
In 40 years of experience, the Group has achieved a leading position in the Italian and European emergency lighting market, with a market share in Europe of 16.8 percent (source: lighting market data - CSIL) but there are a variety of areas in which Beghelli works.
Lighting
The Group is active in this market through the production and sale of:
Emergency lighting systems - include systems that enable the illumination of spaces and escape routes and related signage
Ordinary industrial lighting - fixtures and applications for industry and the service sector, with advanced energy-saving solutions
Residential lighting sources - bulbs designed primarily with LED technology and for domestic use
Lighting service packages - combined service and product offerings including installation, management, measurement and control.
Security consumer products
The Group makes:
Electronic and household products - batteries and devices for domestic water treatment
Social alarms and home automation - products that enable the user to communicate in an emergency with family members and services intrusion detection systems and smart security devices integrated into home automation systems for remote home management and control
Safety products - devices dedicated to personal safety, such as man-down systems for occupational safety and air sanitation systems
Photovoltaic
In this market, the Group is focusing on solar energy storage systems.
Offices around the world offering
cutting-edge solutions.
The parent company is responsible for industrial, commercial and financial strategies and coordination. In addition to the executive offices and the logistics center serving the Italian and European markets, the Monteveglio plant houses a large laboratory facility for research and development activities, as well as product design, engineering, testing and certification.

The Beghelli Group, which has been listed on the Milan Stock Exchange since 1998, includes several international companies operating in the fields of research, production and marketing.
Founded in the late 1990s with Gian Pietro Beghelli's far-sighted idea to associate "Service" with its products. Active in the field of personal safety, including in the workplace, through the SOS Beghelli Operations Center.
Beghelli Servizi is E.S.Co. (Energy Service COmpany) able to offer different opportunities in the integration of a lighting system.
Based in the Apennine mountains near Modena, it is the production center for all electronic components for Beghelli products.

More than 1,500,000 electronic components are placed on product circuits every day.
In the heart of the Bolognese Hills is the production center for molded parts for Beghelli products.

More than 50 million plastic parts a year are molded there.
Located in the vicinity of the city center of Brno, it manufactures metal-framed lighting fixtures and emergency lighting fixtures, starting from design and ending with testing and distribution, as well as air sanitizing devices, using state-of-the-art technology.
In 2000 Beghelli acquired Praezisa, the second largest company in Germany specializing in the production of centralized emergency lighting systems.
The company is headquartered in Dinslaken at its own factory, which covers a total area of about 22,000 square meters, of which about 4,000 is covered.
It has been carrying out the business of selling Beghelli Group products in Poland since 2006. Since then, the company has been steadily developing.
Currently, the company has its headquarters and a warehouse in Rybnik, as well as a branch in Wroclaw.
Main activities are assistance and service to architects and engineers in prescribing projects.
Beghelli Hungary offers innovative solutions in lighting and emergency systems, with distribution and marketing in the Hungarian territory.
Beghelli China
Produces and sells lighting equipment for Group companies, the Chinese market, and Europe and the United States. It also manufactures and sells components of photovoltaic equipment to the Parent Company.
The company operates under ISO 9000 certified quality system and is able to manufacture products in accordance with international quality and product standards.
Beghelli Asia Pacific Ltd. (Hong Kong) is involved in sourcing electronic components and markets Beghelli products in the local market.
Positioned in South Florida, Beghelli USA services and distributes products throughout the United States through 60 independent distributors.
New offices in Miramar house the design, research and development department offices and work closely with manufacturing and logistics.
Headquartered in Querétaro, here products are assembled and distributed throughout the Republic. By continuously developing new high-efficiency lighting and energy-saving products, Beghelli de Mexico makes an important contribution to the North American group.