P236 P258 LED
LED technology, efficiency and savings
In the P236 and P258 LED luminaires, the study of the reflector has been particularly painstaking: with the aid of the latest generation of optical design software, the special characteristics of LED lighting have been optimised by synthesising a minimalist geometric shape that still allows total control of light reflections. Maximum performance in terms of intensity and uniformity of illuminance to ensure maximum visual comfort and extremely high light output.
Anti-glare polished aluminium lamellar optics UGR<19.
Feed-through wiring and accessories for mechanical fastening in continuous row.
Surface-mounted or suspended luminaire for tertiary sector installations. Characterised by excellent glare control of the Dark light type, its use is particularly suitable for all workplaces with video terminals where operators are exposed to artificial light for long periods of time.
The punctual light emission on the work surface gives it high comfort characteristics and precision of the light beam. A range of accessories is available for heavy-duty wiring and mechanical wire fastening for a state-of-the-art civil system.
Additional accessories for integrating emergency lighting are also available: the LED Inverter to switch on part of the luminaire in the event of a power failure, or the LED Module to be inserted into the appropriate housing.
Specifications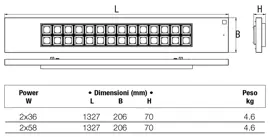 Installazione - Installations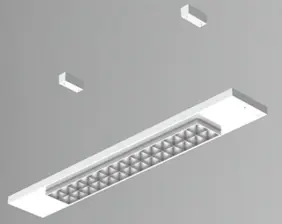 A sospensione A suspension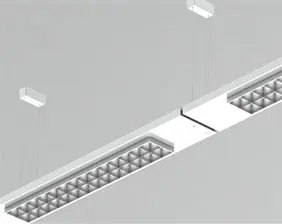 A sospensione in fila continua. A suspension in a continuous row.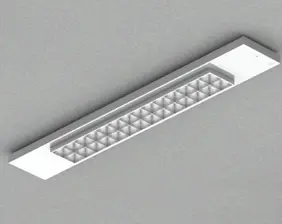 A Plafone  Ceiling
Ottica - Optics
Emergenza - Emergency