FH-L Emergenza
Projector for extreme outdoor conditions
Luminaire with large size and great light output in emergency version.
Fixture designed to withstand the most extreme outdoor conditions.
Outdoor projector equipped with goniometry mounting bracket.
Luminous flux up to over 32000 lm. Available in Autodimmerable Smart Driver version, controllable from Central, or with RD system equipped with selector to set 4 steps of luminous flux.
Double aluminum reflector both symmetrical and asymmetrical (by removing deflector).
Suitable as both floodlight and reflector.
Possibility to inseire home automation module and inverter for emergency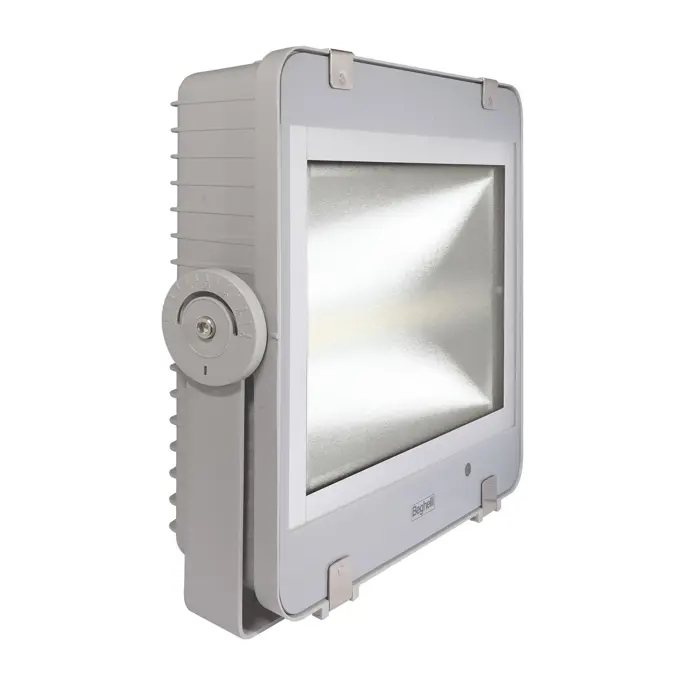 FHL LED are the newest generation of luminaires that combine the advantages of the LED light source with state-of-the-art optical systems, both in terms of performance and great application flexibility. The extremely high-efficiency LED sources used produce unprecedented illuminance that enables the illumination of building facades, or yards, even from a great distance. The screen has a large and uniform emitting area, so much so that it achieves very low luminance, hence very low glare and high visual comfort. The excellent mechanical characteristics (IP66- IK09) allow it to be installed outdoors even in extreme conditions, moreover, the possibility of symmetrical or asymmetrical beam versions make the luminaire particularly versatile.
The "square" design allows 360° movements, on the axis of rotation of the goniometric bracket, thus allowing great flexibility of movement and installation.
An INVERTER is available that transforms the luminaire into an emergency luminaire SA function, to turn on a section of the LED source in the event of a blackout. Controlled beam reflector to optimize the management of the light emitted. Symmetrical and asymmetrical optics in one luminaire: the beam becomes asymmetrical to symmetrical simply by removing part of the optical unit.