Lungalargaluce Built-in
The most beautiful lamp is the one you can't see
A revolutionary luminaire in conceptual terms that seems to express a historical thought of minimalist architecture: "The most beautiful lamp is the one that cannot be seen." The perfect embodiment of this concept finds innumerable feedbacks especially in terms of the maximum reduction in the number of luminaires and the luminaire's visible dimensions: only 12 cm in diameter and a few millimeters thick. The luminaire is also innovative in its multifunctional appearance; choosing from the various lenses provided radically changes the shape and size of the illuminated area.

High-performance emergency lighting fixture with special high-transparency PMMA lens kit for both Lungaluce and Largaluce versions supplied to obtain different sizes of the illuminated area. Each lens includes a white polycarbonate aesthetic mask with locking system for various types of false ceiling. High-efficiency LED, body with integrated graphite-filled Polyamide heat sink.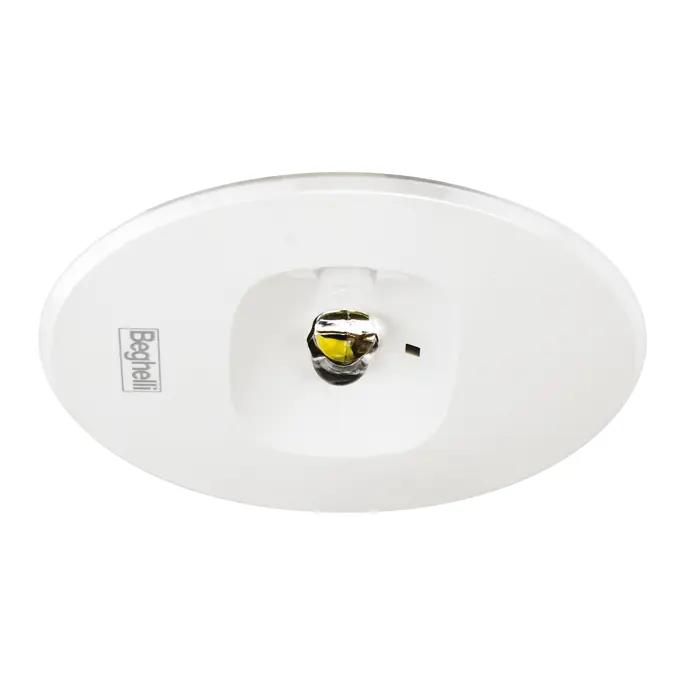 Recessed fixture with multipurpose beam and very low aesthetic impact.

One device, both for escape routes, up to over 17m, and for panic areas up to 130sqm. Adjustable autonomy from 1 to 8h.

Two interchangeable lenses included.

Very fast installation thanks to steel springs that allow orientation even after installation. Recessed hole ø 80÷100mm.
Applications: Tertiary, offices, cinemas, hotels, museums schools , stores, malls, design showrooms
Charging time: 12h
Devices available with the following control systems:
CT -

CentralTest self-powered
Native Cablecom centralized diagnostics for immediate connection to a CentralTest Central Unit. Add-on modules for expansion to LG, LGFM and DALI
CTS -

CentralSystem centralized power supply
Centralized batteries and diagnostics for refurbished equipment, available in 230Vdc as well as 24Vac versions, ensuring maximum system safety
HT -

From 230V mains or responder/DALI system
Mains-powered luminaires, rescuers, LG230 systems, DALI control (HT-DALI)