EcoLED Strip AC 230V
Strips LED powered directly from AC 230V mains.
Professional high-density self-adhesive flexible LED strips powered directly from 230V mains that do not require drivers.
Available in 5-meter rolls with pre-wired power cord and plug or in 20-meter rolls to be wired with 56655 kit. 10W/m or 20W/m versions with IP65 protection rating for outdoor use as well.
The 4th generation 2835 chip provides 30% higher performance than conventional 5050 chips.
Please note: kit code 56655 must be purchased for mounting the 20-m versions.
Dedicated fitting connectors. Equipped with everything needed for installation. Connectors maintain the IP rating of the relevant strip.
Aluminum profiles with diffuser for recessed/suspended/ceiling mount installations.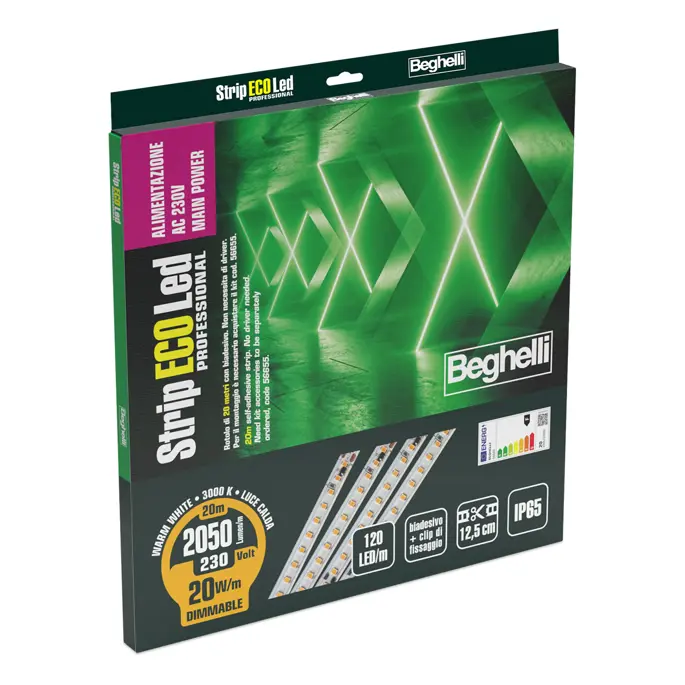 Strip EcoLED AC Main Power

10W

IP65
Dimmable - High Density - 230V - CRI80
Pre-wired 1-meter cable with European plug (5-meter version only). Accessories included:


Strip EcoLED AC Main Power

20W

IP65
Dimmable - High Density - 230V - CRI80
Pre-wired 1-meter cable with European plug (5-meter version only). Accessories included: